A quick walk through your collateral
As a B2B marketing professional, there's a constant struggle that we face on a daily basis. Each new innovation brings with it its own set of unique challenges. To add to this the growing volatility in the B2B marketplace requires you to sharpen your existing skillsets and do so on a regular basis.
Challenges arise from many sections of B2B Marketing. They are not confined to technology, but extends to database management, email marketing, social media marketing and beyond. There is no one stop solution to manage all your campaigns.
The only way to go about it is by factoring in the various aspects of B2B Marketing. Here is a handbook that will educate you on crucial insights that will allow you to upgrade your B2B marketing skillset.
Become proficient in all facets of B2B Marketing with these resources.
A journey of a thousand miles starts with a single step. And, your first step should begin with data, good data.
When it comes to data in the B2B industry, marketers have many things to deal with. These include data quality, data silos, and business prospecting amongst others.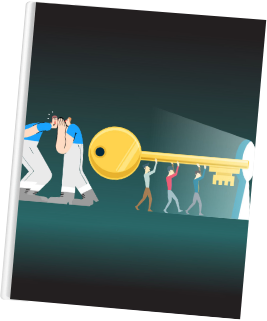 Drive sales with global
B2B database!
The clock is ticking!
Get the best deal for your business.
Well! Imagine you and your competitors have access to the same, high-quality data. Who would win? The one who properly utilizes the data to meet their goals would come out on top. It is here that your strategies and tactics come into play
Getting into business without a strategy and tactics to fall back on will result in chaos. The strategies you use to build an ideal buyer persona lay the foundation for your campaign's success.
7. Smart Tactics To Build An Ideal Buyer Persona
A buyer persona is a roadmap that guides you from the stage of acquiring leads to closing sales. It is crucial to customize and execute your marketing strategy. It becomes the foundation to influence and connect with your potential customers. Learn these steps to build your ideal buyer persona and boost your ROI.
8. Effective B2b Healthcare Marketing Strategies That Convert: A Detailed Discussion
When it comes to generating healthcare leads, a solid strategy is imperative. Healthcare leads take more time to convert than the typical B2B lead from other industries. Read these B2B Healthcare strategies to run successful healthcare marketing campaigns.
Hurry!
Don't waste time reading!
Access your free collateral
while the offer lasts!
You combine data and strategies to target your customers. Creating an impression of your product upon the target customers is where the process of brand management starts.
Brand management fills the gap between obtaining qualified leads and closing deals. Through brand management, you try to build an image of your product for your customers. You do this with the help of brand awareness campaigns.Once you create a brand image for yourself, you get into the process of lead nurturing. Nurturing your leads requires the right mix of email marketing, social media marketing, lead management strategies and marketing technology.
EMAIL MARKETING
10. Master Future Trends & Challenges Of Email Marketing – Latest Edition
Email marketing drives the success of marketing and sales campaigns. But your email marketing strategy will differ from customer to customer. You can't use the same strategy for two different customers. Learn the A-Z of email marketing and gain the necessary expertise to increase your closing rates.
LEAD MANAGEMENT
12. Mastering The Art Of Lead Management
Lead Management is essential until you cross the finishing line when closing deals. Beyond acquiring leads of your targeted audience, the crucial game lies in how you nurture your leads. Lead management has its own challenges and risks. Learn these top strategies to get maximum value from your lead generation efforts.
13. Lead Nurturing: Mastering The Art With Effective Emails 
Lead nurturing determines the success of your marketing and sales campaigns. If lead nurturing steers the campaign forward, it is email that steers a lead nurturing campaign forward. Learn the best practices to nurture your leads with the help of emails. Get a clear insight into email-based lead nurturing programs.
14. Marketing Automation: Innovating Your Marketing Techniques
Marketing automation has become the frontrunner of the modern marketing era. It has opened new doors to new opportunities in the B2B industry. Marketers use marketing automation for various purposes, from email marketing to resource management. Find out how you can use marketing automation platforms effectively.
15. The Role Of Quantum Computing In Business
Traditional computing is reaching a saturation point. Solving problems one by one is slowly becoming a thing of the past. Learn the role of quantum computing in the global business scenario. Know why top companies are investing in quantum computing for their businesses.
CONCLUSION
As Seth Godin says, the only way to consistently grow in the B2B industry is to be better than very good. To be more specific, you should transform your role to become an expert B2B strategist. Help fellow marketers learn the art of effective B2B marketing campaigns by sharing these links.
Follow us on our social media platforms to delight yourself with some creativity. Subscribe to our blog and receive insightful updates delivered straight to your inbox!