We know, we know…By now you must have come across a variety of blogs which talk about marketing predictions for the next year. Primarily because it's almost the end of the year & marketers worldwide want to share their knowledge with others, especially the ones that they claim to be earth-shattering (pun intended).
Marketing is one of those fields which evolve according to time & technology. This is essential because applying the same techniques over & over again may not work every time primarily because in "planet marketing" today is not same as yesterday & tomorrow won't be definitely like today.
For marketers, it's important to stay ahead in the game or fall behind the competition.
So without further ado & before you get overwhelmed with predictions by the entire marketing community, here are ours for you to keep an eye on for the next year.
Let' get started.
1. Artificial Intelligence – Buzzword to Reality
Image source : Sales Hacker
By 2018, 75% of developer teams will include AI functionality in one or more applications or services – (IDC FutureScapes 2017)
Marketers around the world will start paying more attention to consumer advertisement interaction which is going to prove that artificial intelligence (AI) can be used far beyond automation & optimization. AI will help marketers in which content users will notice & respond – positively or negatively. This is because, with AI marketers will finally have the superhuman ability to source massive quantities of data & convert it into the insight & action that can scale the marketing communications to the audience in a more 1:1 perspective that too in the most cost-effective way.
Along with that hyper-personalization is being said to be one of the most promising uses for AI-driven marketing as it's going to eliminate one of the biggest problems in B2B marketing which is spam. AI will empower brands to have unique conversions with each one of their valued accounts which until recently happened only with highly paid sales personnel.
AI will also help marketers in the field of Account Based Marketing, which will help them to identify the accounts that are more likely to buy. AI will tell companies that you share clients with or companies that are investing in areas relevant to your business. All this will give a more clear view of the prospects from which the marketers can prioritize the ones with the most potential.
Bonus – HOW ARTIFICIAL INTELLIGENCE IS REVOLUTIONIZING SOCIAL MEDIA & EMAIL MARKETING
2. Mobile – Only – First
Image source : DMA
Mobile use for B2B purchase research has grown 91% in the past two years – Study performed by (Google along with Millward Brown Digital).
Until now every year people said: "This is going to be the year of the mobile."
But if you are smart enough 2018 will be the year you become bona fide mobile first. When blocking out big projects, large campaigns & messaging strategies, marketers should be now thinking about mobile rather than desktops, as it's the most rapid way to communicate with customers in the present world. There is a greater chance of customers & prospects responding to mobile marketing & from a sales perspective, it means more conversion rates.
49 percent of B2B researchers use mobile devices for research while at work – Study performed by (Google along with Millward Brown Digital).
Also, with the concept of SuperApps being more into reality, marketers should be focusing to make their websites more mobile responsive than it was previously before because companies want to cut their costs on app development & users are not preferring to download apps anymore. More than that even Google now favors mobile-friendly websites & businesses that do not provide a seamless mobile experience via their website often experience a drop in organic ranking.
3. Influencer Marketing – Gaining more Influence than ever Before
Image source : Mobile Marketing Watch
Influencer marketing is getting bigger & going to be more impactful in the coming year even though B2B marketers (mostly with larger budgets) have been getting results from influencer partnerships for years. For the coming year, influencer marketing may live more in customer testimonials, existing referral connections & video case studies as opposed to hoping to go viral on social.
The doors for influence & sales potential will open more by getting your particular product or service into hands of even a few large industry players. Having a continuous stream of positive reviews & outreach efforts can create a large network of brand activists which will expand your reach enormously.
2018 will also see a rise in brands partnering with micro-influencers as they tend to be more available & flexible compared to the macro influencers. That's good for B2B marketers as micro influencers will be more focused on particular & relevant topics than on generic ones.
Bonus – 6 MUST FOLLOW B2B CONTENT MARKETING INFLUENCERS & 10 MUST FOLLOW B2B SALES INFLUENCERS OF OUR TIME.
4. Out-of-home advertising – A much-awaited comeback
Image source : 42Works
Yeah, yeah…There might be hundreds of articles online saying that the traditional models of advertisements are dead, mobile is the only future but out-of-home advertising (billboards, bus stop posters, outdoor panels etc.) is seeing something of a comeback by being integrated with online advertising. The average prospective customer spends a majority of their waking hours outside of the home, so outdoor advertising is an obvious place to start placing brands in the public eye.
Off-line campaigns that are integrated with internet go beyond social media shares or website hits as technology like iBeacons, NFC (Near Field Communication), Bluetooth or QR (Quick Response) Codes enable your ads to jump from the billboards to your customer's smartphone instantly. Many big players have already recognized the benefits of (linking out-of-home advertising with online marketing) & the use is increasing worldwide.
People who have viewed an out-of-home campaign are 17% more likely to engage with that brand on their smartphone – (Marketingweek)
Pairing outdoor advertisements with online campaigns can increase the longevity of the brand's presence in the minds of the consumers as both have their own segmented benefits. Also it enables to track the success of your outdoor campaigns.
Bonus – 5 TIPS TO IMPROVE YOUR ADVERTISING APPROACH
5. Virtual Reality – Interactivity is the game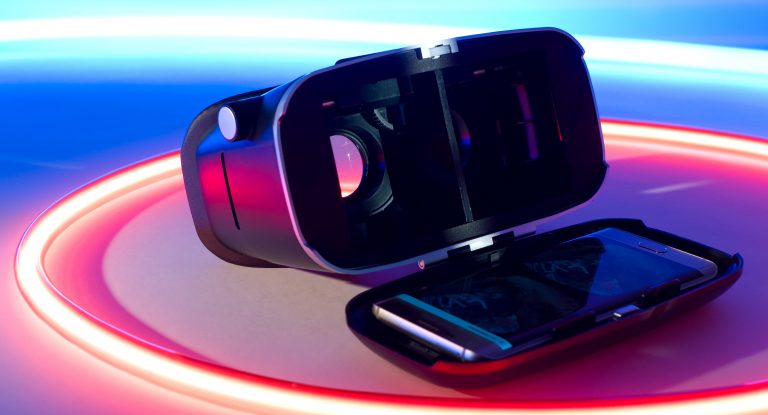 Image source : Manatt, Phelps & Phillips, LLP
Tech like VR, which existed in science fiction novels, is now a reality in the current world & its being taken on by brands because the virtual assistants are opening the door for delivering content in a whole new way. Virtual reality & augmented reality are on the course to grow massively & is going to provide an interactive opportunity to immerse customers in the brand experience.
Virtual reality is going to have a lot more importance in sales & marketing as it'll help B2B brands in demonstrating the product to the targeted customer which will help a lot in compacting loss aversion. The individual will develop a real understanding of the value message that the marketer's trying to convey & these memorable experiences will lead to much deeper connections that can be achieved using more passive marketing strategies.
"The phone is probably going to be the mainstream consumer platform [where] a lot of these AR features become mainstream, rather than a glasses form factor that people will wear on their face" – Mark Zuckerberg, (TechCrunch).
The primary aim of marketers is to convey the message to customer & the use of virtual reality on devices especially mobile can provide a niche & engaging way for marketers to reach their target audience. Brands have already started dabbling interactive videos on desktops & mobile, including the 360 videos but in 2018 we will be seeing more brands launching product AR apps & social platform AR lenses to capture the attention of the audience.
6. Live streaming – The way to connect instantly
Image source : cnet
96% of B2B organizations are using video as part of their online marketing – (Tubularinsights)
The world is changing fast & the preferences of consumers are changing along with it. Consumers are expecting real human connections & are no longer satisfied with faceless generic marketing. Live streaming is a great way which companies can use to engage with their audience & can build a better brand connection. But what matters is how the marketer can use it creatively as per their business requirements.
Compelling content is the primary motivator for live online viewing – (Admarketing)
Marketers can use the technology of live streaming in multiple ways which can include a live demonstration of products to prospective customers or stream a new product launch, running B2B webinars, offer Q&A sessions or streaming product reviews 7 product updates to even customer service.
73% of B2B organizations report positive ROI from video marketing – (Insivia)
More than that all it takes to go live is a decent smartphone, a strong connection & the right app. Done right live streaming can be engaging & can help build brand connection, drawing the audience in & done right, keeping them there.
Bonus – HOW TO USE VIDEO TO BOOST YOUR SOCIAL MEDIA MARKETING
7. Chatbots – An ultimate solution
Image source : Netalogue
Chatbots will be responsible for cost savings of over $8 billion annually by 2022, up from $20 million in 2017 – (Juniper Research)
Not having one yet? Chatbots are turning out to be the new favorite toys of marketers around the world. It's based on the basic psychology that we humans like to chat. It is one of the fastest ways in our current digital world to pass information from one end to other, which is the main reason why brands around the world are integrating them into their business activities.
"A benefit of chatbots is they don't need to sleep," says Clint Oram, chief marketing officer at (SugarCRM).
Chatbot is short for chat robot which is a platform that can engage in conversions powered by Artificial Intelligence. In the perspective of businesses, chatbots are the tools that can handle questions & provide detailed information regarding the products, which is going to be really important in B2B.
Majority of the websites will be built in a more responsive design which is going to give messaging applications to provide SuperApp to do – chat, search & purchase. Chatbots will become the new email opt-ins as the user get to choose the updates. Currently, chatbots are helping organizations in providing a virtual assistant to their customers, bring traffic to the site, building email lists, customer support and in e-commerce & conversational commerce. The future applications are endless as it's capable of learning & updating itself.
8. Social media – The platform to invest
Image source : B2B Marketing
B2B marketers have long been accused of not properly engaging on social media like their B2C counterparts. But recently a change is seen where B2B marketers are spending more time on social media primarily because brands want a better understanding of the customer's point of view: namely, consistent brand messaging & intuitive interactions whenever they encounter a brand consider making purchases.
83% of B2B marketers use social media; making it the most common B2B marketing tactic – (contentmarketinginstitute)
Fined tuned social strategies will be the new norm in 2018, where businesses will be using the years of data that will show where their prospective customers are present online. LinkedIn's popularity has skyrocketed a lot as a publishing outlet for B2B marketing while Instagram has included linking feature that the marketers can use to their advantage. Facebook's Instant Articles are also becoming increasingly popular which are helping content creators feature their articles directly to Facebook App.
The average B2B Company is on 6 social media networks – (contentmarketinginstitute)
What the marketers will have to do will be to identify the platform which will work best for their industry instead of slashing spending for social media altogether. This dynamic will provide a better sense of what to prioritize in the marketing budgets as social media platforms will turn out to be the most effective in publishing outlets for the B2B industry.
Bonus – SOCIAL MEDIA INFLUENCING B2B PURCHASE DECISIONS
9. Content – Which will be smarter & viral
Image source : marketingland
89% of B2B marketers are now implementing a content marketing strategy – (CMI / Marketing Profs)
If you look at marketing especially inbound marketing, there aren't many tactics that can stand on their own without the support of content. Marketing of content has been the cornerstone of all marketing & will continue to drive strategies into 2018. But what marketers should focus on is to create smart content which is interactive & can be intelligently personalized to the customer's needs.
Content which is more of a fact of life for marketers will be seeing a lot more twists & turns as the forms of content aren't be limited to words anymore. B2B marketers should focus on sending their messages through the mediums of visuals, podcasts & videos which are gaining popularity across industries.
About 51% of marketing professionals worldwide has named video as the type of content with the best ROI – (Insivia)
Data should also be taken into account by content marketers as machine learning & automated data capture can help brands in customizing individual pieces of content crafted for specific buyer personas. Content will also adapt according to human search behaviors as business customers will be behaving more like average consumers in 2018.
Bonus – CONTENT MARKETING [ INFOGRAPHIC ]
10. Data – The steed to ride on
Image source : True Influence
When Big Data became one of the hottest trends years ago marketers realized that it wasn't an end in itself but a means to accomplish things.  Moving forward to 2018, we know that massive power of data still has a ton of promise which can be extracted for better performance. Data has the capability to help B2B marketers to know everything about customers. In marketing knowing about the customer means winning half the sales.
74% of existing firms say they want to be "data-driven – (Forrester)
Account Based Marketing is gaining more importance in B2B business as individual campaigns developed for 'markets of one' can offer far greater ROI than mass marketing campaigns which would not have been possible without the power of data. Combined with the ingredients of marketing automation platforms for optimum efficiency, AMB is turning out to be a recipe for big wins in future with its surgical tactics.
More than 60% of companies plan to invest in ABM technology – (SiriusDecisions)
In the coming years, the usage of data will be mainstream rather than following the trend. With the incorporation of artificial intelligence (AI) marketers will be able to convert the sheer volume of data to valuable insights that can generate revenue for the businesses.
Bonus – SCALING NEW HEIGHTS WITH ACCOUNT-BASED MARKETING.
Final Words
We might see more changes happening next year in the diverse field of marketing. We will see more reliance on tools & data in the coming years but what marketers should take care to not get too far from connecting & understanding their customers. All the sexy tools may help & change how we market our message but they are only intermediaries.
So, there you have it. Our predictions for B2B marketing in 2018 & it's up to you to smartly invest in the technologies & strategies that will be apt for your industry.