Marketing has changed considerably over the years, with data playing a vital role in this transformation. Today, marketers are sourcing more customer data than ever before, resulting in more analysis and data-driven campaigns.
As the amount of data created continues to grow, the insights available are also increasing. Businesses that do not have a focused marketing strategy fail to capitalize on the benefits of the available information.
So, the question is, what is database marketing, and what makes it so important? Let's read on.
What is database marketing?
Database marketing is about collecting customer data like names, postal and email addresses, phone numbers, job titles, age, location, and so on for direct marketing.
Marketers utilize such information to understand their audience and create a personalized experience to convert each lead into a prospect.
It seeks to understand how customers want to be reached out and apply those insights to act accordingly for the best results. You can implement database marketing in both online and offline marketing channels.
Benefits of database marketing
Database marketing uses a massive amount of data to deliver messages that resonate with customers, thus increasing customer acquisition, sales and boosting ROI.
The benefits that one can witness by implementing database marketing can be listed down as follows-
Streamline data and marketing activities
Database marketing enables companies to arrange vast amounts of data and revise it to suit the needs of their sales and marketing goals. As one accumulates a huge volume of customer data, it calls for proper segmentation before being utilized.
In 2021, setting up database marketing trends will enable you to arrange the data and build ideal customer profiles or segments.
Download our pre-designed ICP template to ace your marketing skills
Taking advantage of the data in your database, you can create and send targeted promotional campaigns to prospect your most promising leads.
Such a targeted marketing approach places specific content before a group of audiences that reflects their taste or addresses their pain points. Such content reaches consumers as directly as possible with the intent of driving more sales.
Explore email marketing for the best marketing results!
Predict the behavior of your customers
Data analysis for marketing helps you track and evaluate your potential customers' buying patterns and behavior, helping you make smarter marketing decisions.
You can identify past sales patterns, concerns, or conversations they are indulging in to look for solutions.
Data analysis allows marketers to mold their products and services as demanded by the consumers in the market.
A streamlined database marketing approach comes in handy for the most effective use of marketing resources. By creating targeted messages, you can concentrate on premium quality who are highly likely to convert into your paid customers.
As opposed to running marketing campaigns right, left, and center across online and offline platforms, database marketing is better for effectively managing resources to get the best results.
The best alternative for B2B lead generation – DataCaptive
The end goal of any database marketing is to help you segment your audience and deliver personalized and relevant messages to address their concern and provide a solution.
Data assists in grouping the audience according to segments based on a specific purpose or shared interest. Arrange the database by high-value account to quickly identify the most potentially lucrative opportunities and create personalized campaigns just for them through account-based marketing.
Strategize the most responsive ABM campaigns
Great way to get customer feedback
As the communication between you and your audience smoothens, it paves the path for your betterment. You ask how? As Facebook has shown, the best way to improve products is to ask customers what they want directly!
A marketing database helps to gather insights about the response your product/service has in the market. Also, with social media marketing becoming the 'thing' of the decade, people want to engage in conversations with brands.
Data helps you leverage this facility trend and gather feedback directly from customers.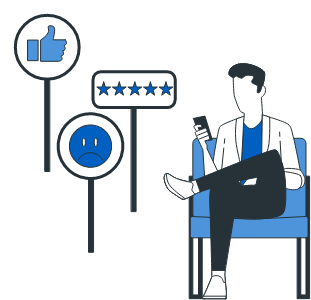 Build authority and brand affinity
When you share content that addresses your audience's concern, the trust factor towards your brand grows. This keeps your brand at the top in the mind of your prospects, thus promoting brand affinity.
Here are some excellent Data Enrichment Solutions
The website visitor's data is a good source of information to improve their web experience. By sourcing users' data, you can see the points of hindrance and make improvements. This will improve the online experience leading to a spike in conversion rates.
Excellent for testing new ideas
Data analysis is great to test new features and gauge the response before launching it to everyone else.
How we help you execute a successful database marketing
At DataCaptive, we provide data-driven B2B solutions backed with AI and manual intervention. Our 360-degree data-driven intelligence and solutions aim to empower businesses and help them achieve sustainable growth. Our B2B contact and company database enable firms to identify, connect, nurture and convert their high-value prospects with profitable marketing and sales campaigns.
Check out our array of services ranging from contact and company databases to data enrichment.
Database marketing is integral to enhancing your business and thriving through the marketplace with actionable insights to increase revenue and ROI. This helps you to identify, connect, nurture, and convert premium prospects through marketing strategies like email campaigns, direct mailing, drip campaigns, ABM, telemarketing, and more!
DataCaptive offers free customized samples. You can also get your first email campaign at absolutely no cost. If you want to know more about our services or want to connect with our business representatives for a demo, please reach out to us.
Lost and don't know where to start from?